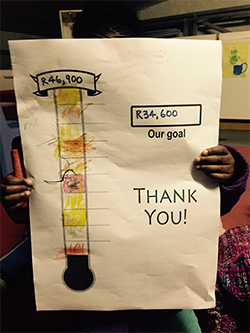 TOGETHER we blew the lid off our crowdfunding target of R34,600 to build Jeppe ECD a classroom for winter! R46,900 has been received in cash and pledges PLUS a fridge was donated too which willcome in very handy!!
Thank you to everyone who so generously contributed.
We are more inspired than ever to build the rest of the facility. Bjala's super-efficient buildingmethodologies mean we can achieve this for just R175,000. If you would like to contribute to thisamazing project, or share the opportunity with an individual or company that would like to get involved, please share.
For more information on the Jeppe Community Early Childhood Development Centre project email:
chantal@bjala.co.za
To donate:
ACCOUNT NAME: BJALA FOUNDATION BANK: FNB
ACCOUNT #: 62566990084
BRANCH CODE: 253305
SWIFT CODE: FIRNZAJJ
ABOUT THE BJALA FOUNDATION
As urbanists we always return to holistic thinking about what our city requires to be good to those it serves. The work of Bjala Foundation is central to everything we do. Bjala Foundation's responsibilities fit into our 'urban software' thinking – how do PEOPLE interface with the built environment and how can we make that serve people better?
The Bjala Foundation spearheads:
Bringing high-quality, low-cost education to Jeppestown from ECD to Tertiary
Creating and sharing opportunities for work and skills development
Procuring public space improvements for leisure and personal and cultural expression
Creating opportunities for consultation, activism and participation building an area we all want to live in.
Bjala Foundation's current projects are:
Education: Bjala's goal is to ensure high quality, low cost education is available in Jeppestown from ECD to tertiary. We have dedicated 3500m2 of subsidised space in Bjala Square to housing education. Our Education partners are:
Streetlight Schools (open)
African School for Excellence (in pipeline)
Bjala Early Childhood development centre (in pipeline)